Creating an amazing customer experience for small businesses
Year: 2017 - current

Background
Bankwest customer's were unhappy with the complexity and amount of time it took to open a business transaction account. The process was inefficient, there were too many handoffs, and overall it didn't meet their expectations. It took 7-10 days for their account to open, and existing customers actually experienced longer turnaround times throughout all the customer channels.
The voice of the business also unhappy. Our colleagues found it hard to understand the different business entity structures and there were generally parts of the application which didn't make sense. They found it repetitive re-typing, and found the long length of time awkward when a customer was with them.
We were tasked with improving the application experience for both our customers and colleagues, which would also:
be channel agnostic (so customers could self serve or apply over the phone or in-store);
channel swap (for example, a customer could start via the website, then have a colleague finish in-store or over the phone);
improve our customer advocacy;
reduce the turnaround times for small business account openings;
simplify the account opening process for small businesses; and
where possible, provide immediate account opening.
roles & responsibilities
UX design lead
Stakeholder engagement
Stakeholder workshop facilitation
Research & discovery
User testing
Insight workshop facilitation
Visual design & prototyping
THE RESEARCH SPRINT
I was bought into the project after it had been running for 3 months with ad hoc UX design support. This meant I had to take a lean approach to "catch up" to the development team.
The research sprint included:
Sourcing the existing research and artefacts from around the bank & other UX designers.
Understanding the small business personas already established.
Understanding the different business entity structures and requirements.
Working with BA's and SME's to confirm the current process across each entity and understand the different roles and responsibilities in the current process.
Working with BA's, SME's and stakeholders to understand the current "front of stage" and "back of stage" processes.
Working with BA's, SME's and stakeholders to establish where the supporting processes happened from other areas in the bank (for example, legal, compliance, fraud, etc).
Additionally, I sat with phone and store colleagues to observe the current process in action. This enabled me to understand the current business process, and where the pain points and areas of opportunity were.
THE initial prototype
An initial low-fidelity interactive prototype was created after a series of internal workshops with SME's and stakeholders. This was done to test internally and also with customers (potential and existing).
During this period, I also started working on a Sketch design system for the UX design team based on our Global Experience Language (GEL). I had identified that the team were lacking a shared library, and by creating one we would speed up our workflow and improve our consistency in our designs.
Once the initial prototype was built, we did a pilot test to ensure that we were fine-tuning the user testing approach, leading to more reliable results. It provided the opportunity to validate the wording of the tasks, understand the time required for the sessions and confirm that the logistical elements (for example, the room and technology) were working well.
The pivot
After the pilot test, the project had a major pivot. Rather than focusing our MVP on private company entities, we needed to focus our initial release to sole trader entities.
Reasons for the pivot included:
Private company entity structures were complex, which made the application process more complex.
Multiple company directors meant that 2 directors (or 1 director and 1 beneficial owner) had to approve the account being opened.
There was increased complexity with not only the process and customer journey, but also with the API development required.
Sole traders are our second largest business banking customer segment, after companies. Bankwest has almost 100,000 small business customers, where 34% employ a simple business structure. Of these, 27% are sole traders with Australian Business Numbers (ABNs). Sole traders were a much more simplified entity structure, meaning we could build quicker to test and learn.
iterating our way forward
We tested several prototypes with customers, working in an iterative approach based on insights we found from these sessions. Additionally, we co-designed with bank colleagues to ensure that the new process worked for when customers wanted to open an account over the phone or in store. Within 8 sprints we had tested with 20 users and 22 business banking colleagues.
It was also important to test the entire user journey, not just the application itself. So within the user testing sessions, we tested from the point of origination for both customers and colleagues, and also the follow-up email correspondence.
Additionally, there has been post-launch user testing to iterate on the built product, where we are improving our product from not only the user testing but metrics and data from the analytics.

 
mini inceptions
Throughout the project, we did several "mini inceptions" through the use of user journeys, basic prototypes, rough scamps and live whiteboard sessions. This enabled the scrum team to do a tech spike for specific features more efficiently. They were able to see the flows for different scenarios, and size (and prepare) for them accordingly. These were tested and validated with our SME's, colleagues and customers.


BUilDING EMPATHY
It was essential for us to bring our internal and external stakeholders along for the design journey. This meant it was crucial that we co-designed and held user testing insight sessions with our stakeholders.
By involving the people working on the project in the user testing sessions, we were able to help build their customer centred mindset. Whether they were a developer, a business analyst, a product owner, iteration manager, tester or something else completely different - we were able to build the empathy with our customers by including the wider teams in the testing and insight sessions.
We also worked closely with the Organisational Change Management team to identify key areas they had to focus on when training our colleagues in the new process.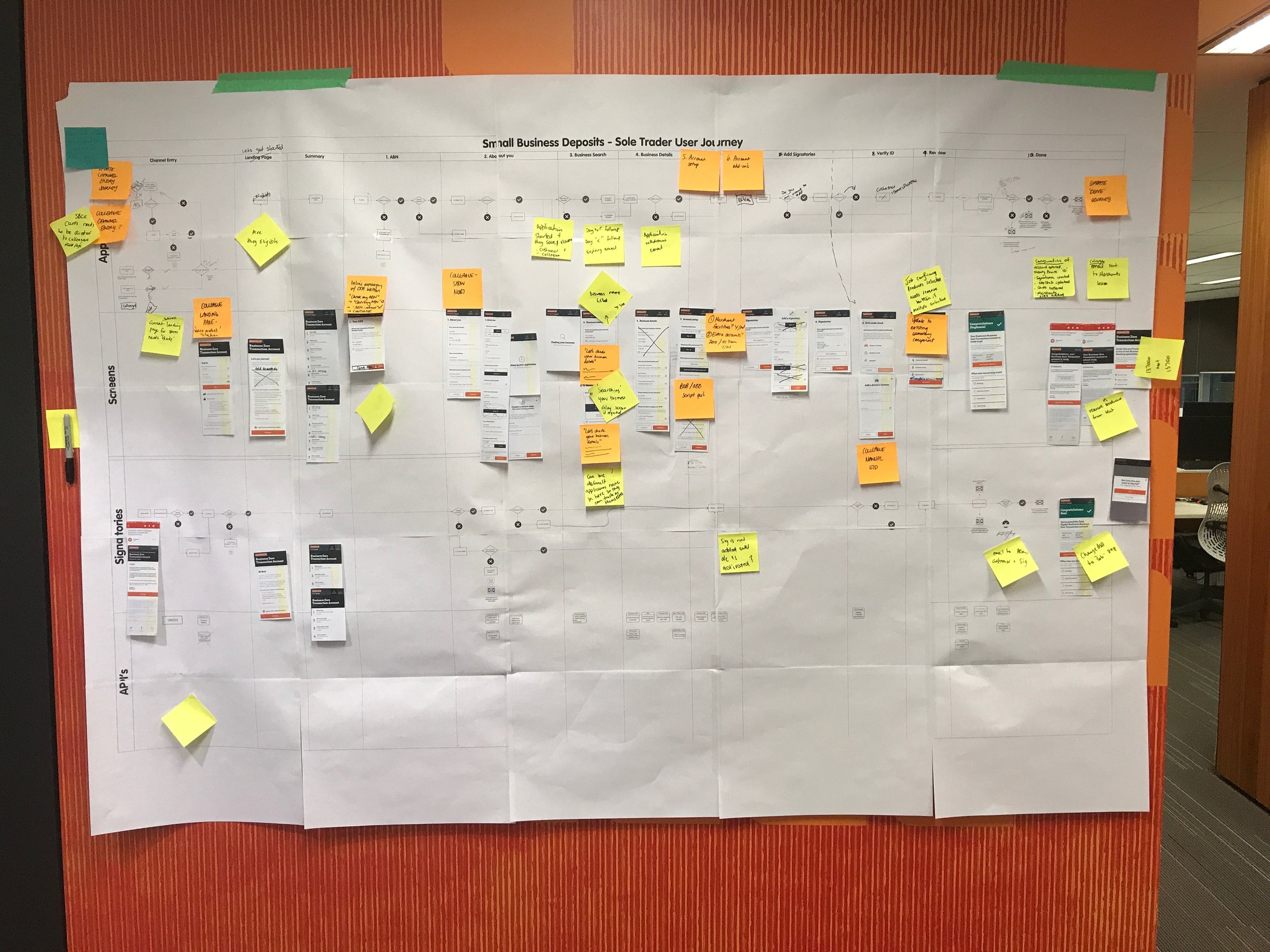 Our physical design walls have provided visibility to the work we're doing in the UX teams, but also assist other teams in aligning to the overall product. It's been a great "water cooler" where people have been able to gather to work through features and problems in the product.
The other ways we're building empathy with all our teams (not just the UX team) is by role playing our different scenarios. This includes bringing colleagues in to role play scenarios based on our customer personas, and facilitating empathy mapping workshops with them.
Post-launch results
Number of accounts opened
The number of accounts opened have increased since launch over the prior corresponding period.
form completion rates
Rising form completion rates show the benefits of continuous improvement and iteration of the experience.

IMPROVED COLLEAGUE EXPERIENCE
"Loved it! Could do the application in less than 20 minutes instead of the normal 1 hour process!"
"The best thing is that there's not a lot of paperwork for the customer to go through and sign. And also, the customer is not kept waiting for an account number."
IMPROVED CUSTOMER EXPERIENCE
"The process is so simple, it was so quick and it's great that there's no paperwork. It took me less than 5 minutes to complete."
"It's an extremely easy application. There's no hassle, and love that the account was created immediately. 10/10."